11 Best Places to Visit in Dubai at Night
Explore night life is Dubai like never before and encounter with city's majestic aura while you are on your trip in Dubai. From fine dining, skiing, watching operas, and walking in the beach, there is really no dearth of activities available in Dubai. Here is the complete guide on how to fall in love with the city after sunset.
Top 11 Places to Visit In Dubai At Night
Going out during night in Dubai is the best option since you won't have to face hot temperature. Plus there are plenty of beautiful tourist spot in Dubai where you can go at night with your friends and family. Here is the list:
Burj Khalifa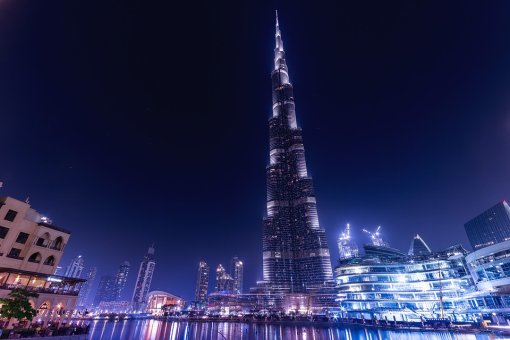 Paradigm of Dubai's architectural beauty, you cannot afford to miss out on Burj Khalif during night! Dubai fountain dance springs up in front of the skyscraper during night and it is scene to behold. As the entire structure lits up during the night, the feeling is surreal and unparalleled by any other experiences in the city.
The Dubai Fountains
World's best synchronized choreographed fountains, it is almost hypnotic to catch it at night. The evening show lasts till 11 pm giving you ample amount of time to gape and marvel. Water sprays that shoot up to the height of 275 metre are coloured by 6, 000 bright coloured lights.  The experience is further amplified by music that includes repertoire of legends like Michael Jackson, and Elmer Bernstein. Every genre of music is available in the album- pop, contemporary, rock, classical etc.
Jumeirah Beach
A night walk in the beach is a must do in Dubai and is advised by every trip planner! After sunset is the best time to plunge into its beauty with its stretch of pristine coastline. The beach gives a wonderful view of Dubai skyline since it is located in the lap of one of Dubai's upscale areas. Western architecture and famous landmarks adorn the beach and during night, they are all illuminated beautifully. You can also access the best bars and lounges during night.
 Dinner in the Desert Safari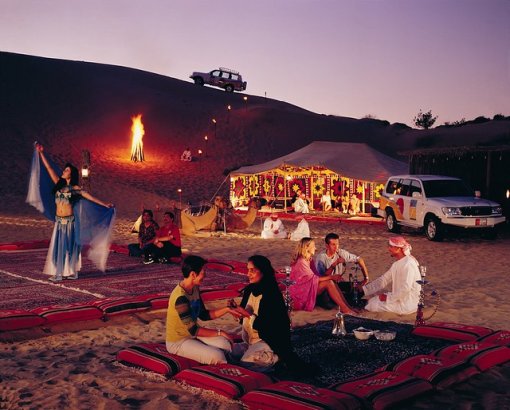 Night desert safari is all about catching beautiful glimpses of sand dunes extending over vast expanse like no other reality exists. Star-studded skyline during night is also an experience that Dubai provides in the middle of nowhere. Pitch your tent, cook some exclusive meals with Dubai spices and enjoy the grandeur of night in the desert. You can go out for desert safari with bbq dinner that comes with Camel ride, dune bashing and much more.
Dubai Dhow Cruise Dinner
Book your dinner and indulge into the luxurious Dubai Creek region and Marina. Nighttime view of the city is one of the reasons why booking for dinner has accelerated rapidly. Skyscrapers shimmer in the distance as you fill yourself with the most exotic dishes.
The Dubai Mall
Catch the best dining restaurants, lounges, and pubs during night as the mall stays open throughout the night. It is also the best time to avoid unnecessary crowd, and window shop in peace.
Catch a Show at Dubai Opera
Dubai Opera is the cultural hub of Dubai and is the most refreshing thing place to go. The dhow shaped building lights up in beautiful extravagance during the night, standing as a masterpiece in itself. Catch iconic performances like concerts in your best attire.
Ski at Emirates Mall
Now experience indoor skiing with the little ones during night till 11 pm at Emirates Mall. The place has a snow park, slopes, penguins, and ski school as well to learn snowboard! The mountain thriller rise is the perfect antidote to a tiring day spent in Dubai's scorching heat. The other fun thing is the slope package that takes in riders of all age. Also, an intimate meet with penguin is popular with kids. Why take a nap at your hotel room when you can relish in the shivering cold of this place?
Night ambience at Madinat Theatre
Compact and beautiful, aesthetics of this place is further punctuated with the music that is played on a loop. There are multiple shows to choose from since Madin at is a platform where internationally acclaimed artists come to perform. The place also hosted infamous Moscow City Ballet, and UK Comedy Club Show as well as Shakespearean dramas.
Rejuvenate with Spa at Palace Downtown
The perfect way to let yourself breathe after an exhausting day of waltzing around Dubai! You can enjoy their upgraded modern amenities and features like hammam slabs, steam rooms, a plush lounge, and Jacuzzis. Since the spa is kept open till 10 pm you need not hurry during the day to accommodate it into your busy schedule. Your perfect way to experience nirvana is finally here!
Feel the Arabian Breeze at Uptown Bar
Besides the attraction of ladies' night that offers drink for free, Uptown Bar is worth visiting after daylight for its aura. As cool Arabian breeze flows in, sink yourself into the mood for some luxury and comfort. No prior reservation is required, however to book exclusive tables and spaces, early reservation is advised. The corner is pumped with soulful beats and interior design to create the perfect dose of fun, leisure, and thrill.
So these were the best places to visit at night during your Dubai trip. If you know any other such places then let us know.