Iftar Dinner Cruise at Dubai Marina
This Ramadan, come with us on an exclusive Iftar Dinner Cruise in Dubai. Ramadan, as we all know is a significant week in the Arabian calendar. Fasting from dawn to sunset is compulsory and is a crucial spiritual discipline. Why not make this even more enjoyable by breaking your fast on a cruise with other guests in an Arabian Dhow? Dubai Marina is famous for its classy Venetian-modelled setting. At Iftar Cruise Dubai, we arrange a classic buffet menu for our guests. Furthermore, as it is Ramadan special, you get special treats. Not only that, you will only get healthy, nutritious, and filling food in the buffet.
Cruise Detail
Tour Duration:
 2 Hours
Tour Availability:
Daily
Adult Price:
AED 140
Child Price:
AED 120
Pick up & Drop:
Optional
Pickup Time:
Depending on availability

Therefore, break the fast with us on board with dates and freshly cut fruits. Other things included on the menu are refreshing drinks, fresh salads, freshly baked bread, and more. Besides, the main course has flavourful dishes, and of course, delightful desserts. While you relish the mouth-watering cuisine (Asian and Arabic), cherish the unmatched view of the Dubai Marina. It is one of the majestic areas of the city having residential buildings, shopping complexes, and more.
Appreciate the beauty of the Marina from the upper and the lower deck of Dhow Cruise Iftar Dubai. While the upper deck is open, the lower deck is all cozy and fully air-conditioned. A few exemplary locations you can view include the Burj Al Arab, the gorgeous grandeur of Atlantis, The Palm, and the opulent views of the Yacht Club. Moreover, there is a separate place for Salah in the dhow. This one-hour cruise is no doubt special and spiritual, especially during Ramadan.
The cruise ride is open to everyone and you can join this one-hour Iftar feast with your friends, family, or your special one. The best part is the Arabian hospitality tradition as soon as you board the dhow. Therefore, the dinner cruise near Dubai Marina is an unmissable deal.
Iftar Dinner Activities
A one-hour cruise journey in Dubai Marina Water covering the iconic attractions of the city.
The ride is available on Fridays and Saturdays.
The menu includes delicious snacks, fresh fruits, and refreshing drinks. The main course includes Asian and Arabic delicacies.
Get instant confirmation on booking.
Inclusions of Iftar Dinner Cruise at Dubai Marina
The cruise time is one-hour throughout Dubai Marina.
Guest welcoming in traditional Arabian style with dates.
Get Asian and Arabian cuisine (vegetarian and non-vegetarian dishes).
Fully air-conditioned lower deck and open upper deck.
A separate prayer room.
Restroom facilities for men and women (separate).
Check the menu list on our website.
The boarding time starts around 6 pm.
The departure time is 6.30 pm.
Bookings are made depending on availability.
As per the government rules, no entertainment programs are available during Ramadan days.
Iftar Menu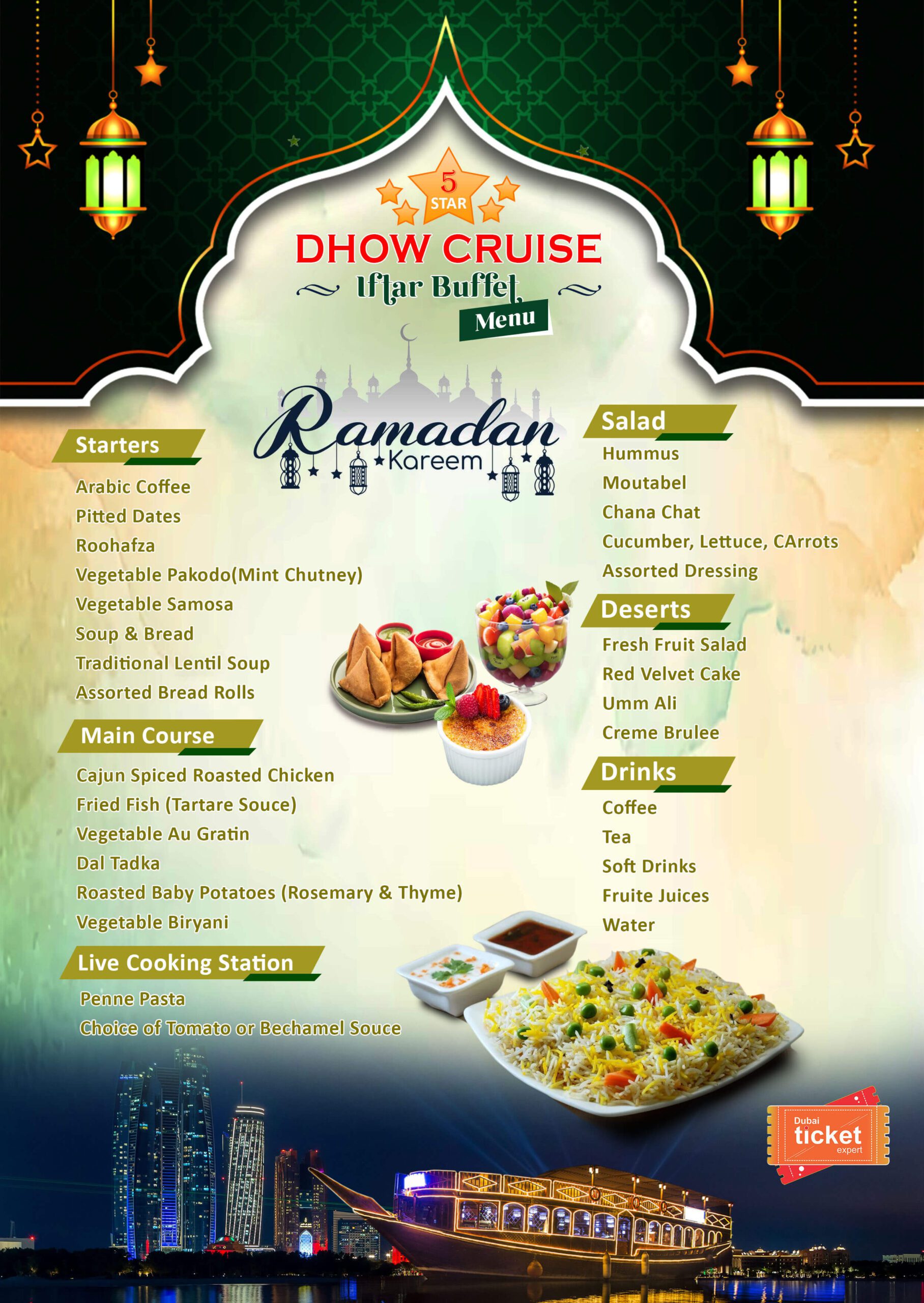 Timing: 
Reporting time – 5.30 pm
Departure time – 6.00 pm
Cruising time – 6.00 pm to 8.00 pm
Cancelation Policy
If you cancel the booking 48 hours before the departure time, we won't apply any cancelation charges.
If you cancel the booking within 48 hours of the departure time, we will charge a 100% cancelation charge.
The refund amount will reflect in your bank account within 7 days (if you are eligible).
Kids Policy
Children under 5 can enter for free.
Children between 5-10 have to pay the kid's rate.
Kids over 10 are considered adults and have to pay the same.
FAQs on Iftar Dinner
1. Is there any dress code on Ramadan days?
There is no dress code during Ramadan week. However, we recommend wearing modest outfits.
2. Can I carry outside food or drinks on board?
No, you cannot carry outside food or drinks on board.
3. Will I get vegetarian food on board?
Yes, we serve vegetarian and non-vegetarian foods on board