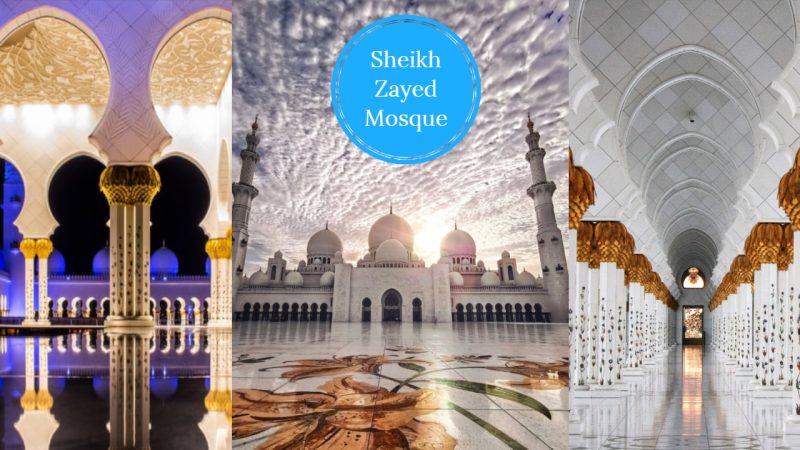 Availability: Daily | Pickup & Drop Back | Price: AED 1000 AED 550
Abu Dhabi is the next destination boasting of grandeur, luxury coupled with a relaxed lifestyle. Dubai has overshadowed Abu Dhabi with its style and charm but nevertheless, this capital city of the UAE is buzzing with life, modern architecture and the best lifestyle in the world. Abu Dhabi may not be as touristy as Dubai but is gaining momentum as more and more people are discovering this place.
Sheikh Zayed Tour Highlights
Abu Dhabi has a few of the finest places to visit. Our tours are specially planned to bring out the best city tour experiences focusing on major highlights. One of the most famed monuments of Abu Dhabi is the Sheikh Zayed Mosque. This magnificent landmark boasts of rich culture and heritage of the UAE offering its visitors a spectacular monument to spend an engaging and introspective time. Completed in 2007 the mosque has an area of 30 acres excluding the surrounding garden area and parking.
The grand Sheikh Zayed Mosque is the largest in the country and is the key place for worship and Friday religious gatherings. About 41,000 people visit the mosque daily during Eid and festive seasons. The magnificent and intricate design and architecture were influenced by Persian, Alexandrian and Mughal Mosque in Egypt infused with Indo-Islamic mosque of Pakistan. The dome and its archways are characteristical of Badshahi and Moorish design and its miners with a classical touch of Arab.
The main prayer hall such huge that it can accommodate nearly 7,000 worshipers at a time. Two other smaller prayer halls can hold 1,500 individuals, one being wholly for women. The four minarets or tower-like structures are in four corners with a height of 351 feet. The courtyard has a beautifully intricate floral design measuring 180,000 square feet and is the largest marble mosaic in the world.
Tour Overview
The tour starts from Dubai with a convenient pickup from the hotel/residence in a comfortable air-conditioned car. The total duration is of approximately four hours with around one and half hour exploring the mosque. Explore through the various mosque sections, prayer halls and courtyard to immerse in the rich architecture and cultural information.
Inclusions
Pick up and drop from the hotel/residence of Dubai
Transfer to Abu Dhabi in a comfortable Air-conditioned car
Instant confirmation via mail
Complimentary juice and water on arrival
An expert driver
English speaking guide to take you around and fill you with details
Witness the largest marble mosaic of the mosque courtyard
Go from hall to hall to witness the calmness and serenity of the holy place coupled with the architectural details
Experience the beautiful Grand Mosque for about an hour.
Come across the largest Iranian carpet in the world
Gaze at the spectacular Swarovski crystal-studded chandeliers imported from Germany. The crystals count in millions and are super expensive. The largest chandelier in the mosque is the second largest inside a mosque and third largest in the world.
Witness the tranquil pools which come to life in the shadow of the night with a multitude of glimmering lights reflecting the minarets and the main structure of the mosque on its calm blue waters
The unique lighting system also depicts the different phases of the moon. The blue-grey lights are projected as clouds on the mosque walls and get lighter or darker as per the different phases of the moon.
The white walls and golden decorations make the mosque a spectacular sight. Browse through the marble and mother of pearl clad columns and read the 99 names of Allah scribed on the Qibla wall
Get ample photographic opportunities as we drift through the various parts of the mosque
Important Information
Proper dress code should be maintained inside the mosque. Legs, arms and head should be fully covered without which entry is not allowed.
Tattoos should be covered.
It is advisable to bring sunglasses as the white marble reflects a lot of sunlight
The mosque is wheelchair enabled
During Ramadan seasons and Fridays, the mosque cannot be visited