Top 10 Things to do near Khor Fakkan Beach
One of the most unique and beautiful place in UAE is this small port town by the name Khor Fakkan which is located in the Sharjah emirate. The beaches of this place are not only excellent but also famous for water sports and scenic beauty. There are several places to visit from Khor Fakkan beach which will help you to spend memorable time with your family and friends. Plus, you can do several things near Khor Fakkan Beach, keep reading.
If you plan to visit this place, then here is the list of ten things which you can do near Khor Fakkan beach, read on!
Shark Island
If you are interested in marine life and love adventure then all you need to do is take a short boat ride from the Khor Fakkan beach and go to this island which is on the southern edge of the beach. You can go with your family and friends to enough camping surrounded by excellent scenic beauty. The island has a rocky texture.
There are small shacks on the island and you can buy the necessary items for Snorkeling and swimming. This will be your chance to get acquainted with the variety of fishes and other aquatic creatures, even corals!
Deep-Sea Fishing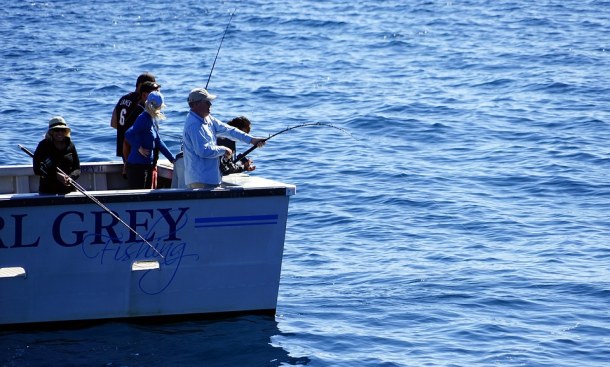 If you miss those old days when you used to go fishing in the afternoon with your father or granddad, look no more! The city of Sharjah has two gulfs where one can enjoy fishing from October to May.
The shallow waters of Khor Fakkan are filled with various aquatic species including sharks! The scenic beauty is also excellent as it has the Hajar Mountain surrounding the blue waters of the Arabian Sea. All you need to do is waiting with patience to catch the fishes like tuna, mackerel, etc.  You can book for deep sea finishing in Dubai here. The productive months for deep seawater fishing are from November to February.
Zen The Spa at Rotana
At a distance of 9.3 kilometres from Khor Fakkan beach is a place which will help you pamper yourself and take away all your stress from the tight schedule of your life. The spa, although a little expensive, is worth trying because of its excellent service.
The Rotana hotel not only provides exclusive spa but also is well known for its swimming pool, food and clean rooms. The spa has separate male and female sections and there is a common wet and dry heat area. The lobby of the spa is grand and there are rooms which have the facility of Jacuzzi. The rooms are big and spacious. The behaviour of the staff and the experience are priceless.
Snoopy Island
This island provides you with the ultimate adventure of a lifetime as you can try Snorkeling here. The water is clean and tidy so much so that you can see various types of fishes and water creatures with naked eyes. This is one of the most famous tourist places and is located at a distance of 14.1 km from Khor Fakkan beach.
You can also see corals and various other rocky structures under the ocean. From the shore, you might have to swim about three hundred meters to reach the island or you can even take a boat if you want. It is a great place to spend your vacation with your family among the marine life.
Sandy Beach Dive Centre
About 14 km away from Khor Fakkan beach and near Snoopy Island is located a modern, high tech diving training centre by the name Sandy Beach Dive Centre. They provide service in training you the right ways of scuba diving and Snorkeling. They also give you the necessities which you need to go enjoy a swim or to snorkel.
This dive centre not only trains you but gives you a certificate for all your achievements. The team who trains the newcomers are well behaved and nice. The team members are professional and knowledgeable. They will guide you properly before you go for your dive. This means not only can you enjoy diving but also become a certified learner from this centre!
Al Badiyah Mosque
This is the oldest mosque in UAE with excellent carvings and interior designs. If you are a true admirer of art, you will love this mosque. No one could say exactly when the mosque was made but many are of the opinion that it was made during the 15th century. It is charming and unique. You will clearly understand its historical importance once you visit this place. If you like this mosque then consider visiting Sheikh Zayed Grand Mosque Center which is counted among the top destination in UAE.
This mosque is located at a distance of 8.1 km from the Khor Fakkan beach.  You will enjoy the top view of the mosque. It is peaceful and you can find a beautiful hall and watchtower in this place. No entrance fee is needed but you need to be properly dressed or else you will not be allowed to visit the interior of the mosque.
Wadi Wurayah
This is one of the most beautiful wadis of UAE and is located 10.6 km from Khor Fakkan beach. The travelling from Khor Fakkan to this wadi is worth it because of the amazing natural beauty that this place owns. You will feel lost in the arms of nature and see various plants, birds and animals.
There are an excellent waterfall and pool in this area. Unfortunately, because of the preservation of the plant and animal life, this place is not open to the tourists any longer. The reason for this sudden action by the government was the result of human activities which were hampering the natural beauty. It used to be well known for sports like mountain climbing and hiking.
Parasailing Ride
If you are into adventure sports you will love to join this activity which is extremely famous in the Khor Fakkan beach. Parasailing is practised in this beach within your budget. Several coupons are also sold for this activity.
No child below the age of five can take part in this sport which lasts for about ten minutes. Even you can rent a life jacket at the price of the ticket because it is all-inclusive packages. You can enjoy with your family on this beautiful beach while going in for parasailing adventure.
Kayaking
If you are in love with water and want to spend some peaceful time in the water then you can go for kayaking which is practised in Khor Fakkan beach and some other beaches of the emirate Sharjah.
You get the option of choosing single or double kayak depending on your situation and mood. There are several water sports centres that can even help you get an organized tour in a kayak. While kayaking through the clean water you will get to see various fishes, turtles, etc.
Camping In Sharjah
If you want to take the feeling of the desert environment then you must try to go camping in the emirate of Sharjah. You will be amazed y the beauty of nature and the beautiful sunset. Khor Fakkan Beach is also in this emirate. Avoid the wadis or busy roads and in front of buildings as you will not be getting the true ides of camping otherwise. The wadis must be avoided because camping might create destructions of nature.
Camping under the foothills of the Hajar Mountain has a different experience altogether. You can go camping alone or with your family and friends. You must carry a sufficient amount of water with you. You must also carry a GPS in case you get lost. The time from June to September is not good for camping because the environment becomes extremely warm.
Since now you know what places to visit and which activities to take part in while you visit the nearby places of the Khor Fakkan beach, the only thing you are left to do is to pack your bags and plan your vacation in this extremely beautiful place.